The school has taken significant steps to reduce its carbon footprint and contribute to a cleaner environment. This is a way of teaching our students the importance of taking little steps towards creating a better world. GREEN TEEN- The Eco Club in school was created in the year 2011. Students of classes VI-XII are part of this club and are working passionately towards protecting the environment. The members of GREEN TEEN CLUB have vowed to further initiatives taken up by the school and do their best towards conservation of the environment. Few projects undertaken are:
The school has installed solar panels to generate electricity. This has made the school self-sufficient in its energy requirements, and now it is no longer dependent on BSES for its electricity. Rather, all extra electricity produced is channeled to BSES and this helps raise our credit rating with them. Our students are conscientiously switching off all electrical appliances when not in use.
Our school is a 'NO POLYBAG' zone. The paper recycling plant in the school is put to its optimum use by recycling all the waste paper generated in the classrooms, offices and other areas of the school. These recycled papers are then used to make folders, envelopes, cards, paperbags etc. which are then used as gifts and invites for various school events. The students also motivate the shopkeepers of the C- block market, Vasant Vihar to use these products made by them. The folders, book marks, envelopes and other such interesting items are also sold in the stalls put up by the students on the parent-teachers interaction days; the proceeds of which are used in the donation funds of the various social initiatives taken up by the school.
NO TO SINGLE-USE PLASTICS IN THE SCHOOL
Single-use plastics, or disposable plastics, are used only once before they are thrown away or recycled. These items are things like plastic bags, straws, coffee stirrers, soda, and water bottles. Thus as an initiative to protect our environment, we at TIS have taken a decision that the cafeteria will not serve food in plastic plates and glasses nor will plastic cutlery be used. All single-use plastic items have been stopped. Children are encouraged to carry their own lunch boxes for buying food from the cafeteria. The school is also a No Polybag Zone. Neither students nor teachers carry polythene bags to school.
RAIN WATER HARVESTING PITS
An initiative of the Eco club of the school, the rainwater harvesting pits started on a small scale in the year 2000. There are 14 rainwater harvesting pits on campus that have helped in increasing the water table of the region.
WATER BANKS
Taking a step further in our attempt to conserve water, we have put water collection tubs in inner atrium. At dispersal time, the students empty the unused water from their water bottles into these tubs which is then used to water the plants in the school premises.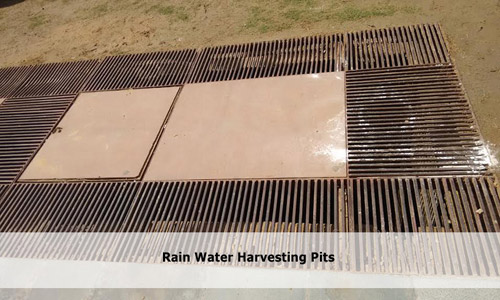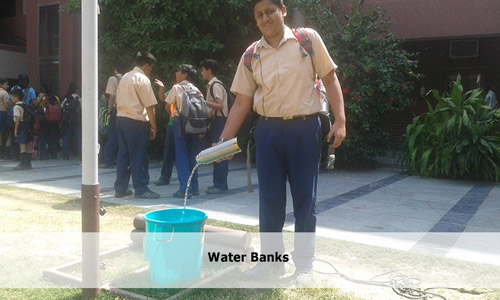 The GREEN TEENS collaborated with Nokia in 2012 and started collecting E-waste such as mobile phones, chargers, keyboards, headphones, etc. This waste is picked up by Nokia to be disposed off in a scientific manner. Our school has been conferred with the 'Platinum Status' for its contribution to the 'Nokia Planet ke Rakhwale' campaign for collecting a large amount of E-waste. Since then, the gangs of Green Teen has been collecting E-waste on a regular basis.
Our school collaborated with Namo E-waste management to contribute their bit towards betterment of the society. Electronic devices like mobile phones, chargers, keyboards, headphones, etc. become trash very quickly. It is essential to dispose them in a responsible manner because many electrical gadgets contain hazardous substances like arsenic, lead, and brominated flame retardants which lands in the landfills from where toxic chemicals leach into the environment. Our E-waste awareness plan intends to create awareness amongst people to generate less of e-waste by proper usage of electronic items, ensure that e-waste is not directly handed over to ordinary trash collectors and electronic items which are not needed are put in e-trash bin in the school.
Waste segregation being a major concern, the students of class VIII carried out a hands-on activity by making students of classes IV and V throw waste in proper dustbins. They were told the difference between the blue and green dustbins and what exactly are biodegradable and non-biodegradable waste.
Eco club students of class XI painted the dustbins using doodles, to convey a message regarding segregation of bio-degradable and non-biodegradable waste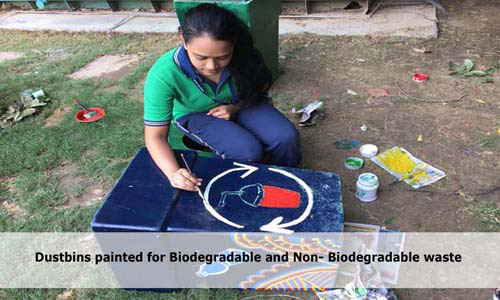 BUILDING HEALTHY ENVIRONMENT
Awareness and understanding of environmental issues is an essential part of every student's learning. It helps to encourage awareness of the environment, leading to active participation in resolving environmental problems. The school has created awareness among the students, through workshops on the protection and management of the environment and on ways to celebrate eco-friendly festivals like Diwali and Holi. Activities sending healthy messages to students, woven into school days, like poster designing for promoting a cracker free Diwali, making of packaging material using newspapers, recycling paper waste to make items for sale and for use on days of events, setting up stalls for the sale of smokeless diyas and herbal colours for holi are part of this sensitization. Through the active participation of the students in the prudent and rational use of natural resources like water and electricity, the school has generated awareness that each individual can, by his own behaviour and action, provide satisfactory solutions to environmental issues.