Excellence is potential chiseled into a more perfect state through vision,dedication and determination. The achievements of the school have multiplied manifold over the years and are a result of well set goals, consistent efforts, intelligent directions and skillful execution.
Sincere recognition of efforts is a fantastic reward that provides continued motivation for future tasks. In all our endeavours, we also recognize the importance of positive feedback which we get from various quarters frequently. We graciously express our gratitude for the constant support and motivation from your end.
Appreciation for Ms. Bhawna Garg, HOD Computer Science
Bhawna ma'am I have no words to thank you. I am absolutely speechless!!!! Thanks to you I proved those people wrong who thought I am weak. My percentage never crossed 60 also and now it's 82%. It's unbelievable ma'am. My marks in computers have added up to a good percentage!!

Thank you so much Bhawna ma'am 🤗🤗

Ayush Malhotra
9 A
Letter of Appreciation for Ms. Deepali and Ms. Kiran from the parents
Dear Mam

Thank you MAM for being a truly outstanding teacher. Your passion for teaching and your dedication to your students is obvious in everything you do. We feel so lucky to have Anaika in your class. We hope you know the priceless impact you are making in little champs.

You really helped our kids to understand things differently and make learning fun for them.

Thanks you so much once again🙏🙏🙏🙏

Shilpa Tokas
Appreciation for Ms. Sonia Mangal
प्रिय सोनिया अध्यापिका जी, आपका बहुत बहुत धन्यवाद की आपने इतने प्यार से, निष्ठा से, प्रतिबद्धता से और उत्साह से छात्रों को ऑनलाइन कक्षा में पढ़ाया। सान्वी हमेंशा प्रसन्नता और प्रफुल्लिता से आपकी कक्षा में उपस्थित रहती थी और अपना कार्य आपके नेतृत्व और दिशा अनुसार पूरी लगन से पूर्ण करती थी। आपको बधाई और हार्दिक शुभकामनाएं। छात्र भी आपको बहुत याद करेंगे और यह उनका सौभाग्य की उनको आप जैसी अध्यापिका से ज्ञान प्राप्त करने का अवसर प्रदान हुआ। सादर प्रणाम
Ms. Rima Pant, TGT English received a letter of appreciation from parent of Arav Talwar of 8C
Students Express Their Gratitude
Painting by Mrinal Singh VII C and Yash Raaj Singh IV A
Poem by Yash Raaj Singh IV A
Appreciation for Ms Geeta Gossain
Accolades for Ms.Sonia Mangal,PRT Hindi
Respected Sonia Maam,

Thank you for all the extra hardwork and pain all of you are putting in, for these online classes. Aditi absolutely loves these classes.
I was initially worried about the kids getting stressed out,but I must say,they are not in the least bit stressed.she enjoys the classes. She has learnt to log in to the classes on her own,she prints out her work on her own and completes it.
Thank you for making them so independent.
Hope all of you are fine and healthy.
Thank you
Roopa.
(Mother of Aditi Ranjan III C)
Appreciation for "Disha-3", held online from 2 July 2020- 6 July 2020
Dear Principal,
Greetings!
Special Olympics Bharat – Delhi, take this opportunity to thank you, students of your school and Ms Umaraj Chopra for organising "Disha – 3" online in partnership with Special Olympics Bharat – Delhi from 02nd – 6th July 2020.
I want to extend a heartfelt Thank You for you and your team's commitment in making this event so successful. You, the entire staff and the youth leaders of Tagore International School held the event in a beautiful and professional manner. I appreciate the time, effort and skills of Ms. Uma Chopra, teacher of your school, students and the Judges. Here I wanted to extend my appreciation to Saburi, Tanish, Shayan and Saira for their tireless efforts to make this event a grand success.
We also like to appreciate the willing support provided by all, to participate in the event enthusiastically without which the conduct of the event would not have been as successful as it turned out to be, well beyond our expectations. Needless to say that personal touch and effort of Mrs. Umaraj Chopra, Hindi TGT of your school went a long way in ensuring that our objectives were met. I would also like to recognize the support of school students who volunteered their services for the cause and helped in arranging all the facilities for the event. They did not give any scope for any complaint. Please convey our deep appreciation to all concerned and once again I thank you profusely on behalf of all the special athletes and staff of Special Olympics Delhi. We look forward to a similar help and cooperation for our Special Athletes in the future.
Scanned copies of certificates for the Youth Leaders Tanish, Saburi, Shayan and Saira are attached herewith.
Thanks and regards
Neeti Saxena
Area Director
Special Olympics Bharat Delhi
Thank You Letter For All Teachers
Dear Principal,
I appreciate all the teachers who were involved with Ayush Koul (XA) during the last academic session and wish to keep the same for next two years.
I want to express my sincere gratitude to Miss Puja Bakshi and Miss Sonia Bhatia. Miss Puja, the counselor has encouraged him and motivated him for good scores in finals.
I want to thank all the efforts taken by Miss Sonia Bhatia for my son. I really appreciate the way in which she helped him to cover the syllabus. By making the lesson innovative she has not only helped him and getting good scores and finals but also in developing a keen liking of the subject.
I thank you all once again for all the wonderful work you have done and wish all the best for your future endeavors.
Thanks
Veena Koul
Mother of Ayush Koul XA
Dear Principal ma'am
Heartiest congratulations and a big Thank You for excellent results of our wards. With teachers' guidance and combined hardwork, our daughter Ishika Sharma has scored overall 98% in her Xth Boards, along with a 99 in Hindi and Social Science. Credit due to the teachers!
Special thanks to Ms. Sonia Bhatia, whom Ishika always looks up to, whose direction has made Hindi Ishika's favourite!
I would also like to say that as students, many teachers and educators will pass through their lives without remembrance. Yet, only a special few will leave a lasting impression. Thank you for being some of the special educators for Ishika. You will live on forever in our hearts and minds!
Regards
Anubhuti Sharma
Parent of Ishika Sharma (X-B)
Letters of Appreciation for Our Teachers
Good evening Maitryeee ma'am,
I was a panelist on a Webinar on Mental Health. I had to talk about my journey and I mentioned you. I just wanted to thank you for everything you did for me in school. Your support meant a lot to me. Hope you and your family are safe.
-Rashi Gupta
Batch 2018
Dear Chetna Mam
We just heard the message that you sent in the group. And it's not only this message but everytime I hear your voice interacting with children, the amount of love, and affection n care I sense is commendable… I have not experienced a better guide for Jeev. Jeev is always so happy around you. You guide them with so much love. The fact that you told them simple life lessons, staying away from video games, empathy towards each other n healthy competition. I cannot thank enough ever for being that angel guardian.
Thank you again.
Warm Regards
Letter of Appreciation for Providing the Learning Opportunities
Dear Mam,
Just wanted to keep you informed and thank you from the bottom of my heart for encouraging the children to take up such innovative programs like TideTurner challenge, Prep my skills and Tgelf. Jeev loved doing all of them. The interactive sessions of Tgelf and Prep myskills, both made him think well to answer questions and encouraged analytical and emotional building.
Not only is he becoming aware of such an important topic of environmental issues, but also collecting information and sharing on social platforms. He also did a live session on FB, on the occasion of |World Environment Day. He also has started the plastic saving challenge amongst his 7-8 friends and there have been lovely discussions on how we can work to make this world less dependent on plastic from our lives.
Thank you again for such initiatives and conversations and for bringing life in all the students through the discipline you instill in them and always ready to answer everything the curious minds ask.
Really lucky to have you as the guiding light for Jeev.
Best Regards
Jasmine
Feedback on e-Learning and Online Classes in the wake of COVID-19 lockdown
Systematically scheduled and professionally executed online classes organized by the school, is receiving very positive and encouraging feedback from the parents and students. We are sharing a few mails and notes as received.
Dear Uma ma'am,

I'm Akshit's mother of 8-b
With this message I would like to appreciate your work. You are teaching with Great patience and love which is really appreciable. My child is taking interest in classes and putting efforts to complete a given Assignment. I would like to Thank you for Inspiring Children

Mother of Akshit
Class : 8 B
Greetings !
I Rajesh Chopra parent of Saburi Chopra of class 11th B would like to take this opportunity as to thank the school staff and teachers for keeping up with my daughter's education during this time of a pandemic , the kind of hard work teachers are putting into their studies really show how dedicated and inclined they are towards shaping a better future for my child and her mates .
I really would like to appreciate Sameera Ma'am sweating hard to create an inclusive classroom.
Aonjon sir trying his best to make painting sessions interactive and fun .
Maitreyee Ma'am for making children understand our constitution deeply and making them connect with it.
Komal ma'am for making psychology a subject everyone would enjoy studying and understanding.
And lastly , Misha ma'am for her tremendous hard work in breaking the myths about home science being associated with cooking only and teaching students to be efficient , resourceful and a better part of the society.
Hence, I would conclude by saying a big thank you to the TIS staff working this hard and making education a milestone.
Rajesh Chopra
Parent of Saburi Chopra
Class 11th B
Respected Principal Ma'am,
I am writing this letter to express our gratitude towards the school authority, teachers and staff of TIS. As Auderey Hepburn once said and I quote, 'Nothing is impossible as the word itself says "I 'm possible" and our school has yet again proven this statement.
I would like to thank all the teachers of class 10th for their sincerity, honest devotion and perseverance. We know, sometimes your own children were deprived of your care and attention because you were busy attending to ours. In fact I must say all you teachers are putting in utmost hard work to make the children understand the concepts in an easy manner. Hats off to school and the teachers for making the online classes possible, despite the fact that we all are dealing with this untoward pandemic situation, it is really commendable and we are sincerely at loss of words for your appreciation.
Ma'am, we were apprehensive when the online classes started, about how the children would cope up as it was a completely new concept, but today after a month of their successful conduct, it has kept the zeal to learn and has also helped them to keep up with their academics in this tough time of lockdown. Thank you for being a guiding light, for wonderfully executing the
online classes and helping the students to be on track, academically. This letter would be incomplete without a special mention of Ms. Sonia Bhatia (Hindi), Ms. Anuradha Arora (Geography), Ms. Vandana Sen Gupta (Chemistry), Mr. Vinod Ranjan (Physics), Ms. Anuradha Rao (Mathematics), Ms Remy Kaul (Biology), Ms. Neetu Khanna (English) , Ms. Maitreyee Bhattacharya (History, Political Science & Economics) & Ms. Neila Hariharan (class teacher of 10-C).
Once again thank you all for creating such a fun yet educative environment, you're not just heroes to our children but I would say 'Magicians'. We are extremely happy to be a part of the TIS family.
With love, gratitude and a standing ovation.
Vikas Swarnakar
(Father of Navya Swarnakar X-C)
Meracis Info Technologies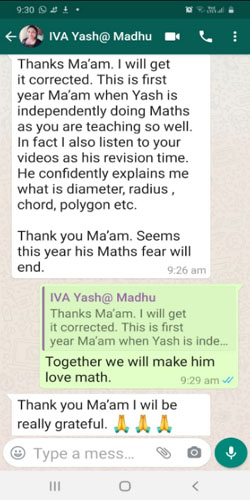 I would like to express my gratitude towards all my teachers for handling all the academics classes so well! The live sessions are so enriching and interesting. I want to specially thank our PE instructor (Nishant Sir) and Dance teacher (Ms.Malovika Mam) for making it possible through live sessions, an interesting experience altogether .I really miss my school days where I use to enjoy my Aerobics and Art Pursuit Classes. Thanks to the entire staff of Tagore International School.
Anvi Mansharamani
6C
The good part about PE and Dance to have the teacher online and live. The energy of doing it together with all friends was great. PE sir shared exercises using some very interesting and innovative ways. I understood everything Malovika ma'am shared as she did it so nicely engaging us so well and really enjoyed the dance she made us do. I am looking forward to the sessions with excitement.
Anisha Sharma
6C
Physical education
This class helped the child to improve the physical fitness and muscle strengthening exercises. It has inculcated the methods of training of body of child physically in these times. It has enhanced the importance of child's physical health due to sincere effort of teacher.
Samriddhi Singh
6C
The P.E. class also, in it's own way, was very satisfactory. Even though we were sitting in our homes-we still got tired with the rounds of exercise which in a way was amazing as we could have the fun of attending PE classes, which we all love and greatly look forward to in school, in these stressful times. I think it really helped all feel fresh and made us energised for the rest of the day.
Atharva Pandey VI C
Dance
The student learnt dance steps which help in not only physical fitness but also improve happiness Quotient. It relaxed mind and indulged the body completely. The teachers have been really sincere in teaching the students.
Samriddhi Singh
6C
Respected Ma'am.
I attended P.E and dance classes online today.They were very informative and energetic. I thoroughly enjoyed watching and learning new exercises. It was exhausting as well as freshening.The workout relaxed me same I will keep exercising every morning.
Warm Regards.
Manhar Ahuja.
6 C
Good morning ma'am

This is saiansh 9 B mother…..
Ma'am when these online classes started we were worried how children will cope up as it is a new concept but today I want to thank you for inculcating interest in your subject by teaching in such a wonderful way…..he looks forward to your class and is being able to cope up with assignments as you give comprehensible instructions and ample time for children to complete them…..
I appreciate your efforts….
Thank you🙏
Regards
Kanu kwatra
Hello Ma'am,

My daughter, Taneesha's Hindi teacher of class 2-c , Ms Sonia Mangal. She has been very warm, receptive, prompt and encouraging. Her videos have been very informative and well explained. She explains everything thread bare. Watching her videos is an audio delight and as good as sitting in a live class. My daughter thoroughly enjoys in her class. I wish her and the entire school staff all the very best.

Thanks
Anshul Jain
Respected Maam,
I, Kartik Bhardwaj student of class VIII -C take this opportunity to thank all my teachers and school faculty who are putting their hard work and efforts to teach us during this lockdown.
Firstly, I would like to share that yesterday I attended my first online assessment by Navita Maam in Social Science. This was my first kind of online test and I scored well in this. All assignments, PPT?s and study materials are shared with us on time. We are having all classes on time which makes my schedule disciplined and makes me feel as if I am going regularly to school. We are given homework and encouraged to do activities based on the topic taught. I would like to thank all my teachers personally-Rima Maam who is my English teacher and class teacher too , Nidhi Dimri Maam(science),Nidhi Sood Maam(math), Uma Chopra Maam(Hindi), Navita Maam (S. Sc), Niela Maam (French) and my Sports teachers Praveen Sir, Suvira Maam,Nishant sir and Lokesh sir too. It was fantastic to get video recording of physical fitness from our sports teachers. Ma?am my sister ( student of class XII of this institution) and I are enjoying and happy to have these online classes. I will welcome if we are given online test as per the schedule of periodic test for this session so that it keeps us motivated to study.
Thank you
With Regards
Kartik Bhardwaj
Student of Class VIII C
Dear Chetna ma'am,

During these tough times of lock down, one community that is ensuring psychological and cognitive development of students are the teachers.

The administration at Tagore International school, Vasant Vihar, is proactively keeping all students engaged with academic sessions like they would have done offline.

Ms. Chetna Sawhney, class teacher of 7 A, has extended her warmth and love even online as she would have done in her classroom buzzing with enthusiasm.Students eagerly wait for the science class and class teacher discussion time online.

All teachers at TIS have made children realize that feelings like care and affection have no boundaries and can reach out effectively even in the virtual world.

Thank You TIS and the entire team for supporting parents like us. Hope to see you soon, with all in great health and smiling like always.

Namrata Sahni
M/o- Aashir Sahni
VII A (2020-21)
Dear Mam,

Just wanted to write to you personally also to thank you for all your efforts for class 7A. The love, affection and guidance you are showering on the kids is really commendable. Jeev is learning to be more thoughtful and careful. I am seeing some change in him.
Though I have to admit that he is still trying and gets a bit more anxious in this time. He is exploring a lot of kitchen (he is assisting me in cooking) and painting during this lockdown period.
I am trying to help me with organizing his work and taking up daily class and assignment work as it is, but he sure was feeling a bit of confusion, which has gone by.

Thank you so much for holding on and showing them a path that is right for them.

Best Regards
Jasmine
Respected Sonia Ma'am and All the Teachers at TIS
I would like to express my gratitude towards all the teachers at TIS for their commendable efforts to make the online learning experience so fruitful and interesting for all the kids during these trying times. It is not at all easy making all those presentations, worksheets, videos, class schedules, etc. All the teachers are working so hard, putting so much effort for each and every session, despite the fact they have their family and children to look after. My children, Tia Batra (IX-B) and Ayansh Batra (III-C) both are enjoying this new way of learning. Apart from Academics, the school is also focusing on the physical and mental growth through physical activity session from time to time, which again shows the kind of dedication the school and teachers have towards our kids.
I would also like to mention the video I received for National Anthem, it was so enlightening for the kids. The way the teacher explained each and every word, how to pronounce it and then repeating it. It was beautiful experience in itself.
Thank you so much to all of you for all your efforts.
This too shall pass.
Stay Safe everyone.
Neetu Batra
Mother of Tia Batra (IX-B) & Ayansh Batra (III-C)
Dear Sonia Ma'am
Its a tough time for kids to be at home due to lockdown but with the efforts of Tagore Internatinal School faculity and especially sonia Ma'am who at all sphere helping parents with their queries and appreciating her students for the assignment given. This has been the motivation for the kids to enhance their skills and strive to perform even better in their academics and fun activities as well..Thank you Ma'am for your support and love that you shower even when you are not physically around.
Regards
Monika Singh
(Mother of Raahithiya Gupta III-C)
Respected Mam,

This mail is to express my gratitude towards you, the school authority, teachers and all staff of TIS for wonderfully executing the online classes and putting our children back to their study track. As my both the kids are students of your school – Anvi Nautiyal from Class 6-B and Anvaya Nautiyal in 4-A, I feel extremely happy to see them enjoying and learning all concepts in simple and easy manner where teachers are interacting with lot of energy and enthusiasm making this learning a fun filled activity for them. The way all your teachers are planning and managing all this task in such a stressful Pandemic outbreak reflects their hard work, sincerity and dedication towards their honest approach to give their students one of the best teaching mode in current situation. I also want to mention the way all the teachers are sending day to day schedule with all videos for junior classes and online interactions as per timetable for senior classes shows their interest and punctuality to efficiently accomplish the teaching – learning without wasting the time. I really wish to congratulate you for having this efficient team of teachers at TIS for moulding the future of our children to become a better citizen. I want to thank all teachers of class 4-A i.e. Ms. Neetu, Ms. Sushma Sangwan, Ms. Kalpana and Ms. Rajni for this commendable job for making learning a fun-filled activity with all day to day life examples. The videos sent to the children seems to be so interesting that I as a parent also enjoy watching and solving quizzes and puzzles. Thanks are also due to all the teachers of class 6-B (Deepti Mam, Madhu Mam, Jyoti Mam, Chetna Mam, Radhika Mam, Usha Mam) for all sincere efforts they are putting to make my child understand all the concepts by regular interactive sessions. You as a school are not only focussing on the academic learning of the children but also boosting their physical and mental growth by giving them physical activity sessions on regular basis that again is highly appreciable. Hats off to all your teachers of TIS that makes us feel proud to be associated as parents.

Thanking You,

Best Regards,
Dr. Aparna Nautiyal (Mother of Anvi & Anvaya Nautiyal)
Assistant Professor
Department of Botany
Deshbandhu College
Kalkaji, New Delhi
Dear Sonia Ma'am,
Hope you and the entire TIS family are keeping well. I'm thankful to you and the entire Tagore International School (TIS) team to put in such great efforts to craft these amazing online classes with interesting & educative videos along with regular assignments. These activities are really helping kids to keep up to date with their academics during such difficult time of lockdown.
Let's pray for everyone to be safe and healthy.
Thanks
Aisha Haque
M/o Syed Amaanul Haque (3-C)
Dear Ma'am,
I would like to thank Monica ma,am and Sonia ma'am for doing wonderful
work. My son enjoys the work and the individual attention that teachers give , in this situation.My whole hearted appreciations for the teachers of TIS.
Thanks
Mother of Praket
class 3 A
Due to the outbreak of COVID-19 pandemic, I am glad our school took the initiative to conduct our online classes not wasting any time, although the first couple of classes had some technical snags, all the errors have been rectified now and the classes are commencing without any issues, there is no compromise in the teaching and the syllabus is advancing normally, the system for homeworks and tests is also very well established and I have had no issues from the other end.
Thanking you
Ronit Das
XII-C
Dear Madam,
Hope you all are keeping well in these difficult times.
We are reaching out to you to thank the School and its entire team – more specifically Abha Madam of Nursery C (Class Teacher of our Son Daivik Tamuly) and Renu Madam of II A (Class Teacher of our Son Nabhyajit Tamuly). Both Abha Madam and Renu Madam have been helpful to put our kids to work and keep the rhythm going. As parents, we belong to a world where working virtually is not the normal norm; likewise, we understand how difficult it is to teach kids in a virtual world. We note that it is not just the assignments they are giving but also the calls they have to attend from parents including the periodic meetings.
We highly appreciate the steps taken by TIS-VV for their students.
Best regards,
Bidyut & Pranami
Parents of Daivik and Nabhyajit
Nursery C
Respected maam,
This is to tell you that my family and I are really thankful and appreciate your dedication even in times like these.
We do realize that you have families and kids of your own, and your efforts to try and normalize things for our kids, amid all the chaos, is really commendable.
All you teachers, fighting the madness, waking up every morning to make my daughter's life better….YOU are the real unsung heroes of this country.
The torch bearers in the darkest of days.
Thank you so much to sonia maam and all the staff trying to make this work.

Dr Roopa
(Mother of Aditi Ranjan III C)
Dear mam !
This is to share my view for the online programs your school has started from 7th April 2020.
I am thankful to all the teachers of class 4th who are making great efforts to provide meaningful, interesting and educative study materials in the form of worksheets, YouTube links and self shoot videos to the students constantly.
My daughter watch the material shared regularly with great enthusiasm and do her worksheets sent by respective teachers. She becomes overwhelmed after receiving the response from her teachers individually when she send her assignments to them for verification.
I really appreciate this online program which is keeping up the zeal to learn new things among students. Also, it is helping them to keep up their academics in this tough time of lockdown.
Great Thanks to you mam and all the teachers for your efforts🙏
Thanks and Regards
Neha Malhan
Mother of Kashvi Malhan
Class 4th A
Dear Ma'am,
Good Evening!!
Our kids have started attending online sessions since yesterday. I am writing this mail as specific feedback about the 1st EVS session yesterday for 4th A.
My son Yash Raaj watched videos with full interest and also answered all questions being prompted as interactive session. He totally loved the way parts of plant was made so easy & interactive.
Also as the next step mentioned in session he also sow few chana seed in small pot to make plant out of it which made us happy as he understood the concepts well on his own because of ppts & videos.
So I want to say Thank you to the efforts of Neetu Ma'am who put in so much effort to make it interactive & fun learning for kids.
I am really grateful to the Principal Ma'am and all the other teachers roo for being so much concerned about our children's studies during this lock down period.
Best Regards
Madhu
(Madhumita Singh – Mother of Yash Raaj Singh)
Mob: +91- 9717244822

"Quality is never an accident; it is always the result of high intention, sincere effort, intelligent direction and skillful execution; it represents the wise choice of many alternatives" – William A. Foster"
Good Afternoon Ma'am, I am Navjyoti, Vivaan Bhatnagar's mother. Thanks for sharing your introductory video. It was very well recorded and a great way to connect both with kids and parents. We have worked on the GA lesson today and will continue to practice the introduction and table manners.. Really appreciate all your efforts.. Regards
Message from mother of Vivaan Bhatnagar's mother ( I A)
Respected Ma'am
I am Kavita Bahri, mother of two
daughters (Amaira Bahri 3 b and Devanshi Bahri Xb). With all due respect I would like to appreciate and acknowledge the efforts and hard work put in by all you teachers and the school to give online classes to the students so that they are not left behind in their academic courses.
I would like to thank Sonia ma'am and Meenakshi ma'am for the interactive online videos and study material provided by them as it has made a new fun learning experience for the young kids.
At the same time I would like to thank all the teachers of Xth standard as well for their dedication and hard efforts they are putting in so that the children are not left behind in their academic session at this point of time when everyone is facing lockdown.
Warm regards
Kavita Bahri and Rohit Bahri
Thanks ..all of u teachers are taking a lot of care right now…sending videos..presentations etc so that the kids do not miss anything..highly appreciated..i am proud that my daughter is in a v gud school and kudos to the teachers also🙏👏👏👍
Mother of Manya 1B
Hello and greetings,
Meenakshi ma'am and Sonia ma'am
We parents of kushagra Sachdeva, class 3-B would like to thank you for sharing all worksheets and videos with us. We also ensure that kushagra will follow the routine given by school and will update study material on weekly bases. Happy to rejoin and involve in school activities.
Thanking you
Parents of kushagra, class 3-B
My ward Tishya Chandok is a student of class7c of the school ..Today the offline material uploaded has been of great help to the children..Thanks to the school authorities for taking this initiative..and Hats off to the teachers for making the materials so user friendly…
I would like to specially mention for the science material which is uploaded by Ms Chetna Sawhney …it is being made with special care that it caters to the needs of all students..Mam has uploaded some notes too made by her which are extremely helpful…The questions that are framed by mam also have the answers in the notes itself making the work easier for all children…
Chetna mam has given the instructions too in a very clear manner
I am thankful from the bottom of my heart and would really appreciate her for all the hardwork put in by her for the students .
Also there was no problem faced by any child in viewing the materials sent by her bcoz all the instructions were shared by mam well in advance by a whataspp message which was shared with all the three sections of class 7.
Thanking her and the school again ..
Regards,
Rachna Chandok
To
The Principal
Tagore Interntional School
Vasant Vihar
New Delhi
Respected Ma'am ,
I want to thank Chetna ma'am for her concern and support for the students. She made notes as well as study material for all studens. We are fortunate to have such a teacher in our school.
Thanking you
Yours truly
Meenakshi Awasthy
M/o Sanvi Awasthy 7 B
Dear Principal ma'am and all the respected teachers of Class IX,
The tremendous hard-work and dedication shown by all of you has won my and my son's hearts.
Its April 7th – the first day of my son's online classes in a new school. He is a new admission, and so I was a bit worried. But you all are fabulous facilitators and mentors. My son is delighted and excited to meet his teachers online.
I must also appreciate the timely delivery of the planned classes, well-structured assignments and regular communication with the parents.
Warm regards,
Ujjwala Thukral
(Mother of Sarthak Thukral, class 9B)
Greetings.
On behalf of the Class 7A, This is to inform you that the videos and presentations sent by the concerned subject Teachers are very good. They cover the topics very well. Students find them very useful and interesting.
Regards
Shraddha Sharma
M/o Kuhelika kaushik
7A
Dear Nikita Maam,
Confident this finds you in the best of your spirits as always, amidst working tirelessly for continious upliftment of the school and the students.
I'm writing to thank you and compliment You, both as an Ex. Student and also as a parent of a student, of our always close to heart School, that inspite of all the Challenges of the present unprecedented situation, You and our School Team is working really hard to provide a 'Seemless Study At Home Environment'.
It's a new experience for all, the School, Teachers, Students and the parents, and I'm sure we will all sail through it smoothly and adapt to its functioning very soon.
Wishing you all the best Ma'am.
Best Regards,
Gautam Saraf
The newly introduced system of online classes due to the spread of covid-19 virus, in my opinion is better than the regular live classes unless the connection issues arise. The teachers are making the best possible efforts to carry forward the syllabus. The online session is comparatively more interactive than a regular class because we can put up our doubts which most of the students fear putting up in the class. However, it has got its own disadvantages as well. Students tend to be present during the class and do some other stuff without letting the teachers know about it. According to me, these classes are fun, interactive and much more effective. We can reach out to the teachers at any point of time which is really appreciative and an amazing initiative taken up by the school. Lastly i would thank the teachers for such an effort and hardwork they do for us students.
Thank you
Krish Chhabra
Class X
Dear Principal,
I am pleased to have my ward, Advay Vohra of class 10 B, study at Tagore International School, which was one of the first schools to begin online classes as soon as the lock down was announced. I commend you on the use of technology at the right time.
The online classes keep him and other students busy in productive work consistently, which brings us great satisfaction. However, network issues sometimes interrupt the flow of knowledge.
I would also request you to urge the teachers to be stricter with assignments and their submissions. After all, evaluating how impactful the knowledge was is just as important as imparting it.
Thank you, and good luck!
Monika Vohra
Mother, Advay Vohra
X-B
Respected Maam,
I am Peehu Bhardwaj student of class 12B studying in this institution . I am writing this letter to thank our school teachers,management and administration for taking so much of pain for keeping students future bright. in such a pandemic situation.
I believe that our school was amongst the first few schools who took the initiative to start online classes within a week when schools were closed by the government. I have seen the efforts teachers put in to ensure that every child understands the concept clearly. They provide study material , powerpoint presentations, google form , questions to solve at home ,various youtube links ,etc related to the subject and the topic that needs to be taught.
I would like to quote that, "my teachers also make sure whether all the students have attended the class or not and if not then what was the reason behind it", they personally call to check the same. During this lockdown we still get up on the scheduled time (8 AM) and attend the online class so that we don't miss out our concepts.
I have friends from various schools and while talking to them I got to know that their school take online classes in the evening where a lot of students aint able to attend as they have other personal commitments in the evening.
I and my parents would like to personally thank the following teachers for taking care of the studies for students in this unexpected situation:
1. Sameera Malhotra Maam (Economics)
2. Maitreyee Bhattacharya Maam (Political Science)
3. Komal Sharma Maam (Psychology)
4. Saroj Maam and Yachna Maam (History)
5. Sudakshina Maam (English)
I extend my sincere thanks to Madhu Maam , NIikita Maam and Alka Maam.
Regards
Peehu Bhardwaj
12-B
2020-21
Good evening. I'm Nysa Gogia of class XII -A. My experience with the online classes have been extremely interesting, helpful and knowledgeable. The closure of the school because of the global pandemic made us think that it would take a great toll on our syllabus. However the online classes are just a blessing. They are quite fun to attend plus one doens't feel the absence of physical being. We can ask questions and interact in the same way we used to do in class. The kind of efforts taken by our teachers to teach us religiously everyday is also quite commendable. Over all my experience is quite good.
Good evening,
I am Yashwi Pathak a student of class X-C and a member of the safety club. I am writing this mail to the school to appreciate all the efforts taken by our school to conduct online classes and helping the students to study and clear doubts. The online classes have been a huge success and all the students of my class have actively participated in all the classes being held till date. I am extremely grateful to the school for taking this initiative of teaching the students from home and completing the syllabus on time. As 10th being a board year, I find these online classes extremely helpful and I am able to learn a lot from these classes.
Thanking you
Yours sincerely
Yashwi Pathak
X-C
Good evening,
This is Trisha Sood from class 10. As a student who has a very important academic year ahead of her, I would like to thank the school for the online classes being conducted for quite some time now.
Given the circumstances, this is the best our school and do. The steps taken by the school, that too within a few days since the schools have been closed is appreciated. The teachers are putting in a lot of effort and that needs appreciation as well.
Thank you very much for not letting our academic year lag behind.
Expression of gratitude by a student towards Ms. Usha ,TGT Sanskrit
Ma'am, I am really going to miss you a lot. Thank you so much for being the most amazing part of my 4 years journey in Tagore International School. Thank you so much for always being so supportive and helping me with all my problems at school. I am forever indebted to you for all the good values and life lessons I have learnt from you. I really mean it when I say that you're my true inspiration. I wish I could become like you one day. I am so grateful to God for giving me this opportunity to meet an amazing soul like you. All your students are so blessed to have a teacher like you. I can't thank you enough for all the things that you have taught and done for me. And I promise to stay in touch with you always. I will miss you the most Usha ma'am.🙏💕
Chhavi Jain
X A (2019-20)
Letter of appreciation for Ms. Shweta Chawla from a parent
Dear Mam,
I am Lakshmi Rao, mother of Srijit Srinivasan who is presently studying in Class II A.
This mail is appreciating the efforts put in by Shweta Chwala Mam, Srijit's KG A Class teacher for introducing him to theatre, exploring his talent of going on stage, playing roles and delivering dialogues.
Srijit was her student in Class KG A in the academic year 2017-18. They had staged a play of Alladin and the magic lamp for their annual performance of Expressions. He was given the role of Jamaal the magician and she had to be really patient and persevering, to get the best out of him. She was instrumental in identifying his ability in this sphere.
Pursuant to this both in Class 1 and Class 2 he has been selected and performing well in the annual day celebrations. This year, in Class 2 he played Guru Nanak , the lead character in one of the plays staged in this year's Sanchyan.
We sincerely thank her efforts as this has also enabled us to select Theatre as his Art Pursuit in Class 1 and 2. Besides we also enrol him in summer camps and weekend drama classes and he thoroughly enjoys his time there. He has given exams conducted by Trinity College London and has got good remarks from his examiners.
Thank you Shweta Mam..
Best Regards
Lakshmi Rao
(Srijit Srinivasan's Mother)
Words of gratitude from a parent for Ms. Vedica, Project Director (Social Campaigns)
Dear Madam,
I am Bhupendra Kumar Father of Prodigy ( Divya Sijwali, Class IX) ,take an opportunity to extend my gratitude to you and the esteemed educational Institution Tagore International School for excellent work being done by you for Social Causes. Madam, you being the project director, of all social events of Tagore international School, are working as a catalyst, giving opportunities to young talents of this school in order to exhibit their latent but extraordinary talents. You are exposing them to the social environment to excel and grow as a good human being. Divya, invariably ,discusses with me about all the activities she uses to get involved other than the basic hard skill ( Education). I have heard very high of you through Divya. Of late ,she has participated in one social event on "Survivor of acid attack" in amazon house. Few days back I saw one vedio clip of the presentation given by Divya on Acid Attack Survivor. Having seen the vedio, for the first time ever since she was born, I realized that Divya has really grown a beautiful human being with all matured and nurtured Soft Skills. Madam, this became possible with all your love and support to Divya. Your exceptional, unbiased and unique talent can easily been seen in Divya's performance. I wish that your eternal guidance and inspiration keep prevailing upon Divya so that she gets more and more such opportunity in future. I am very confident that Divya will never let you down and will honor your trust on her.
I am looking forward to meet you whenever you give a time slot out of your busy schedule.
Thanks & Regards
भूपेंद्र कुमार / Bhupendra Kumar
क्षेत्रीय प्रबंधक / Regional Manager
यु॰इं॰इं॰कं॰लिमिटेड / United India Insurance Co. Ltd.
क्षेत्रीय कार्यालय / Regional Office
जोधपुर / Jodhpur
Mobile No -7042119530; 7825873065
Thank you note from Mr. Panjaj Munjal, Resource Person from CBSE
Dear and Respected Principal (Ms. Nikita Tomar JI)
This has reference to the Capacity-building Life-Skill Workshop conducted in your school, Tagore International at Vasant Vihar on November 23, Saturday.
I wish to thank you for all the logistical support and necessary arrangements for the smooth conduct of the workshop for ensuring a mutually-fulfilling learning experience and interaction.
At the same time, I would like to congratulate you for a wonderful team of curious and lively educators who took active participation through patient listening, continuous self-exploration, interaction and cooperation during the workshop, throughout.
Wish you all the best for your future endeavors for illuminating the future society.
Kind Regards,
Pankaj Munjal
CBSE – Resource Person
Thank you letter for Ms. Uma Chopra (TGT Hindi)
Thank you for being such a wonderful teacher and teaching us .
Your class was the only class that I didn't dread having to come to each day. Thank you for being a bright spot and something to look forward to in the school day.
Thank you for creating such a great environment to learn and where we were encouraged to express our own thoughts and opinions.
I wanted to let you know that I really enjoyed your class. Your class was fun and I learned a lot from you. I wish all of my teachers were more like you.
Divya
Class VIII
Ms. Maitreyee Bhattacharya ,PGT( Pol. Sc.) fondly remembered by her ex student , Batch of 2016
Ms. Bhattacharya received a whatsapp message from her ex student, Tanisha Roy expressing her gratitude towards her.
The message is as follows:
Good morning ma'am.
How are you keeping up? Ma'am I wanted to share a piece of news with you. I got through JNU for Masters in International Relations and Politics and I have to thank you for developing my interest in this subject so deeply. I still miss your classes ma'am and I hope I can attend one soon! :))
Love you loads.
Tanisha Roy (Batch of 2016)
Thank you letter for Ms. Uma Chopra (TGT Hindi)
Thank you for being such a wonderful teacher and teaching us .
Your class was the only class that I didn't dread having to come to each day. Thank you for being a bright spot and something to look forward to in the school day.
Thank you for creating such a great environment to learn and where we were encouraged to express our own thoughts and opinions.
I wanted to let you know that I really enjoyed your class. Your class was fun and I learned a lot from you. I wish all of my teachers were more like you.
Divya
Class VIII
Ms.Usha Rani (TGT Sanskrit) appreciated for her dedication and commitment
I am writing this mail to express my thankfullness towards you for taking pains and clearing my Son's (Sabhya Arora, Class VIII B) doubts on Sanskrit. I truly appreciate the way you taught him and made him ready for the exams.There is no single chance when you have not replied. Even on the eve of your son's birthday, you answered all his queries.
You have made Sanskrit so easy to understand that he is really scoring good all due to your great support.
I have no words to express my gratitude towards you.Thanks so much
Thanks
Ruchi Arora
Mother of Sabhya Arora
A note of gratitude for Vandana Ma'am and Renu Ma'am (Class II A)
Respected Vandana Ma'am and Renu Ma'am,
Greetings of the day!
As today is the last day of the primary school children for the session year 2018-19, Sumit and I take the opportunity to congratulate you both and all the activity teachers of Class II A for a successful year. Be it scholastic and co-scholastic avenues, we have seen Vidditi showing an additional amount of interest in her assignments and activities. She has become more responsive in her personality and reflect both confidence and empathy in her conduct.
While writing this, I would not like to miss an opportunity to express our congratulations to you both and the team of teachers for putting up a great show at SANCHYAN 2018. It was really exciting to witness the narration of the play, which revolved around the drawbacks of technology advancement (especially mobile phones) on our society especially on children. The theme itself was thoughtfully picked and play was very well written and dramatized. The story narration, dances, live music, background sound effects, stage set up and the costumes, all were commendable. The confidence of each of the students reflected the hard work poured in by the whole team to put together such a fantastic show.
Once again, a very big congratulation for a successful year 2018-19 and all the best for the year 2019-20.

With best regards,
Nidhi and Sumit Khanna
Parents of Vidditi Khanna (Class II-A)
Appreciative e-mail from parents of Varuni Khanna of VII C
Respected Principal Ma'am,
Greetings of the day!
We had the privilege of attending the Senior Annual Prize Distribution last Friday (February 8) at the school. It was a wonderful experience to witness the whole event well hosted by teachers & students. It was spell bound to listen to the accolades school, school students and teachers have won throughout the year 2018-19 both at national and international level. It was amazing to discover diversity of avenues of participation which not only included academics but also art, literature, science, music, drama, sports and many more. Heartiest congratulations to you and the teachers for another successful year. Most importantly we wanted to express our heartfelt thanks to the gesture of the school management while recognizing the work of three support staff, especially it was awesome to see that the children stood up while all the three members where being awarded. It was a great gesture and further supports the values that the school is inculcating among the students.
Once again, a very big congratulation for a successful 2018-19 and all the best for the year 2019-20!
With Best Regards,
Nidhi and Sumit Khanna
Parents of Vaaruni Khanna (Class VII-C)
Letter of gratitude from Madhuban Educational Books
'Thank You' email from parent of Khushi Gupta of class X of batch 2019
Dear Ma'am,
As we know Khushi Kaushik is a differently abled child studying in TIS since 9 years now, as parents of Khushi we would like to share our experience with TIS with respect to education, care and support received from this school till now.
First of all we would like to thank Ms. Madhulika Sen, Principal of Tagore international school and all the teachers of TIS for their contributions in making Khushi Independent. When she was born, we were worried that how would she commence her studies and what would her future promise due to her visual impairment. But it was her luck that she got admission in TIS. Since beginning, all the teachers of this school have been caring like her mother and they have always been giving special attention to her so that she can compete with normal children of her class.
We would like to share some of the things which make TIS different from other schools for a differently abled Child.
The Principal of the school, Ms. Madhulika Sen, she is strict but that strictness makes Khushi a more disciplined and carrier oriented child.
The coordinator teacher Misha ma'am, who has been constantly worried about her studies and comfort like her mother.
Her class teachers from class 2nd till class 10th, every teacher taking special care with respect of class work, homework, physical & mental development.
A special robotics workshop arranged by TIS only for visually impaired children which helped her as well as all other visually impaired students of TIS to know that they are no different. They can use the same tools and create things like any other child.
All the visually impaired students are constantly made a part of nearly all the activities in school. This helps them to be confident and to believe that they are not different from others.
The parent workshops, that help us to understand the child in respect of behavior, language, physical & mental development, carrier and all.
The school bus staff, both driver & helper cares for her and do not start the bus until she is comfortably sitting.
Some of our friends whose 4 children are studying in schools like Mount Carmel (Anand Niketan) and Spring Dales (Dhaula Kuan) are constantly worried about their child's education as they are not getting this kind of cooperation and support from their teachers in terms of education, ways to conduct examinations and upcoming board examinations. However, we are the only parents who are not worried for our child's educational requirements and cooperation from the school staff despite facing almost similar problems.
Finally, we would like to give a special thanks to all the school staff for their support, love and affection towards Khushi.
With Regards,
Shailesh Kaushik
F/o. Khushi Kaushik